Why Build a Capsule Wardrobe?
Building a capsule wardrobe offers numerous benefits:
Simplicity
A capsule wardrobe streamlines your closet, eliminating clutter and the overwhelming feeling of having too many choices. It simplifies your daily routine by offering a selection of well-coordinated pieces that effortlessly go together.
Versatility
The key to a capsule wardrobe is selecting versatile pieces that can be mixed and matched to create various outfits. It allows you to create a range of looks with a limited number of items, saving you time and money.
Quality over Quantity
A capsule wardrobe emphasizes investing in high-quality pieces that stand the test of time. By focusing on durable fabrics and timeless designs, you can build a wardrobe that lasts and reduces the need for constant replacements.
Effortless Style
With a well-curated capsule wardrobe, you'll always have stylish options. Every piece is chosen intentionally, ensuring that each outfit you put together exudes confidence and style.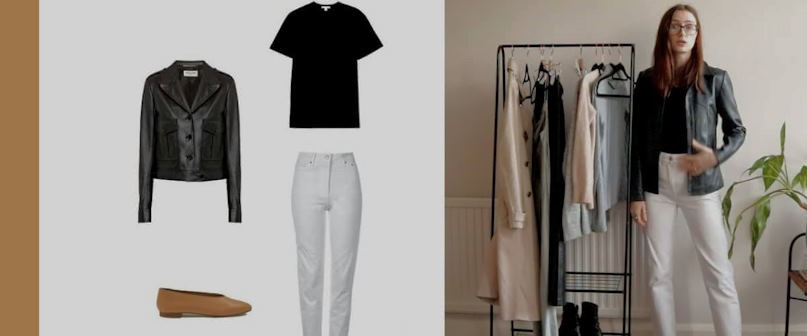 Building Your Capsule Wardrobe
When creating a capsule wardrobe, start with the essentials that form the foundation of your wardrobe. These versatile pieces can be mixed and matched to create countless outfits for different occasions. Here are the key items to consider:
Tops
White T-Shirt
A classic white t-shirt is a staple in any capsule wardrobe. It can be dressed up or down and pairs well with jeans, skirts, or blazers.
Button-Up Shirt
Opt for a tailored button-up shirt in a neutral color. It can be worn independently, layered under sweaters, or paired with trousers for a polished look.
Striped Top
A striped top adds a nautical-inspired style to your wardrobe. It pairs well with jeans, shorts, or skirts and can be worn casually or with accessories.
Bottoms
Jeans
Choose a well-fitting pair of jeans in a classic cut that flatters your body shape. Dark wash jeans are versatile and can be dressed up or down.
Black Pants
Invest in tailored black pants that can be worn for casual and formal occasions. They are a timeless and versatile addition to your capsule wardrobe.
Skirt
Select a skirt in a length and style that suits your preference, such as an A-line or pencil skirt. Neutral colors like black, navy, or beige ensure easy pairing with various tops.
Dresses
Little Black Dress
The little black dress is a wardrobe essential. Choose a versatile style that can be dressed up or down, depending on the occasion.
Maxi Dress
A flowy maxi dress is perfect for warmer days or a beach vacation. Opt for a design that suits your style, whether it's floral, bohemian, or solid-colored.